Wedding Advice and Tips. Planning a wedding in West Michigan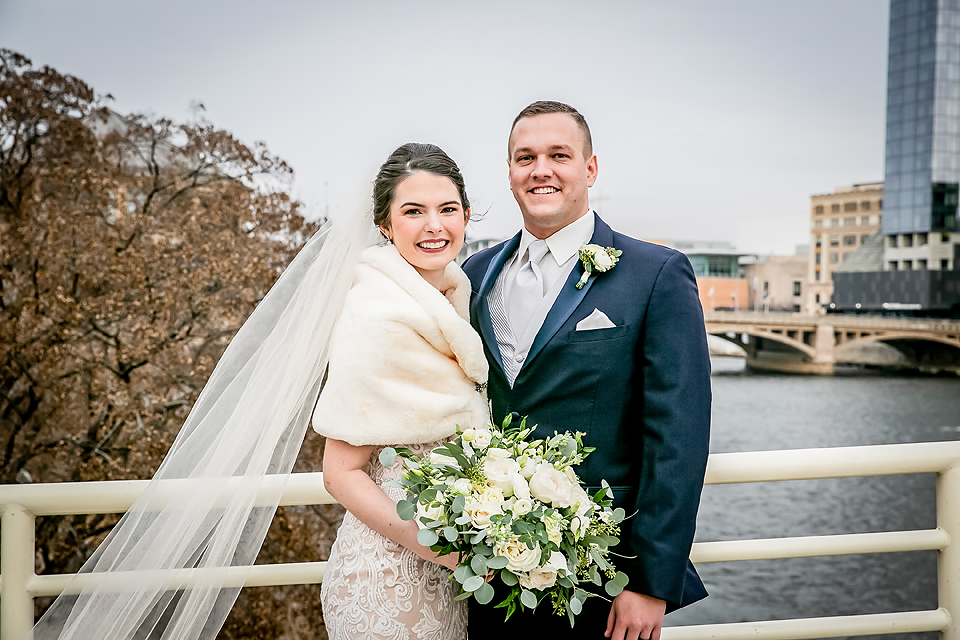 By Jamie May Photography:   Since people are often planning weddings,  I thought it would be beneficial to ask for wedding advice and tips to planning a wedding in West Michigan.  I gathered information from random people by posting on Facebook.  I collected nine responses. Each number represents that person throughout the questions.   I hope you find this information as beneficial as I did! And if you would like to contribute, here is the link to the google forms: Questionnaire
Wedding Tip 1: Did you do a first look and are you happy you did or didn't?
I did a first look with my dad, and my immediate family got to watch. It was so special. I was glad I didn't do a first look with the groom because it made walking down the aisle that much more special.
We skipped the first look and kept it traditional – I thought this was sweet, but I can definitely see the benefits of a first look.
Yes, we loved it
Yes, we loved it
I wish I would have
Yes, we loved it
Yes, we loved it
Yes, we loved it
Yes, we loved it
Related article: Benefits of a first look by Muskegon Wedding Photographer
Wedding Tip 2 : Did you hire your flowers or do them yourself? Any tips or websites to share?
We hired Chalet Floral- They were super friendly and easy to work with-
We ordered bulk flowers from Sam's Club and I put together center pieces, bouquets, and boutonnieres myself. This saved us a lot of money, and I actually enjoyed working with the flowers.
I hired: Nikki from Simplicity Floral and Event Design
Chalet Floral in Muskegon, MI – They were wonderful, and fairly priced. They made sure we got what we wanted, and didn't try to oversell us anything. They showed up before the wedding to set up, and came at the end to pickup anything that we rented, so we didn't have to bring it back to them ourselves.
I loved my florist she was amazing she was more than a florist she tied it all together
Both, greenery was fake and we brought white real flowers
Did them myself. So much cheaper. I had a friend who did her flowers for her own wedding help me.
Hire-we did purchase flowers from a greenhouse to decorate the outdoor ceremony. This was great because then the flowers were used all summer long.
I bought bouquets for my flower girls and I, the boy's boutonniere, center vases with wildflowers, and some strands of eucalyptus for the head table from a florist. I picked a venue that I loved as is and didn't spend any extra money on flowers! I also did all wildflowers/natural so it was a little less expensive and matched the venue. Having the florist bring it was also amazing, they set it up and left and I didn't have to worry about doing anything. I really don't think I would have saved much doing it myself when adding in time/stress/money to buy all the flowers.
Wedding Tip 3: Where did you buy your dress?
Beckers Bridal
I bought my dress at Becker's Bridal and they had a lot of style options with varying price ranges. I had my alterations done at Miller Bridal and Sewing in Fremont, MI and loved them!
Becker's Bridal
Renee Austin in Grand Rapids, MI
Alfred angelo
Becker Bridal Outlet
Becker's bridal outlet. They have an anniversary sale where every dress is 650$ and under. When I got mine (In 2018) it was 500$ and under. Still a great deal.
Bridal Gallery on 44th St in Grand Rapids
Wendy's Bridal in Fort Wayne
Wedding Tip 4: Where do you buy bridesmaids dresses?
Azazie
dearcleo.com – Make sure your girls order their dresses with plenty of time. Ours took 8-10 weeks to ship and then alterations were required for some so this is something that you'll want to do sooner than later.
David's Bridal
I gave them a color, and let them buy the dress they wanted from whatever store they chose. 2 girls got them from BHLDN, and 2 got theirs from Lulus.
Alfred angelo
I had all my girls find their own black dresses
Lulu's.com. I picked a dress that was cute but casual so they could wear it again!
Bridal Gallery as well
Azazie
Wedding Tip 5: Decorations do or don'ts
There's no need to go overboard. For us, we remember the people, delicious food, laughs, and beautiful sunset since we were in an outside tent. The decorations add to the fun, but there was no need to break the bank over it.
Our wedding was outdoors and we had a lot of natural beauty working for us so I was able to keep decorations to a minimum. Simple and elegant was my goal and I don't think it was lacking. Plus, I didn't want to pour a bunch of money into decor that would later just sit in a box after one evening. On that note, check with friends and on Facebook for anything that can be purchased for less and reused.
Can't really answer; my wonderful mother in law did our decor
Use fake flowers/greens if you can. You can buy them at Hobby Lobby or Costco, it's a lot cheaper and you can sell it on Facebook marketplace after. Don't fixate too much on little decoration details, even only a year later I don't remember specifics on that, and no one else will notice either. It's not worth having a meltdown over and making the process negative.
Make them simple
Keep it simple. I was at a wedding and they had the biggest decorations in the middle of the table and you couldn't see around them. It was annoying.
Look on Offer Up and Facebook Marketplace before buying new things.
Don't do more than necessary! People are not there to look at the decorations, they are there for you and to watch you marry the love of your life. Don't waste time/energy/money on little things, save yourself some stress.
Wedding Tip 6: Organization Tips?
Utilize spreadsheets, have a vendor list, and hire a day of coordinator. We had a family friend act as our day of coordinator, and she did an amazing job making sure the day ran smoothly.
Keep a detailed to-do list, budget, and timeline. Have frequent and clear communication with vendors to ensure that everything will be in order and on time the day of your wedding. Do not be afraid to ask questions even if they seem silly. Communicate constantly with your bridal party and other key people (officiant, masters of ceremony, etc.) the few days before the wedding to make sure they have everything they need and know what time to show up so you don't have a stray groomsman/bridesmaid.
First and foremost, plan your overall budget and then allot how much you will spend for each portion of your wedding. Pinterest has great wedding budget breakdown examples!
Spreadsheets!!! I had a master guest list spreadsheet that I tracked sending save the dates, invites, if they RSVPed, and if I sent a thank you yet. For the registry, I made a list of things we needed first, then found them at the places we were registering at. The spreadsheet had the item, price, where it was from, and then as I got presents I could put who sent it and what event it was for (shower vs. wedding gift). Staying as organized as possible will make the process easier for everyone helping you too. I had the spreadsheets shared with my mom and mother-in-law so we were all on the same page.
Planner/calendar and designate folder
Keep a binder. I recommend theknot.com one. Gives you a timeline to work with.
Create spread sheets and a binder to keep track over everything. Give this information to a MC for the big day.
I bought a planner that had everything in it that I was going to do and then I just had one massive list that I crossed off until everything was done. I also did not hire a planner – I wrote everything down that needed to be done the day of in a notebook and handed it off to the best man since he didn't have much in terms of getting ready (and our best man is one of the most organized people I know.) But you can do this with anyone you trust – just not your mom/maid of honor. I let everyone else handle the day of obligations since I had already written it all out and explained it. And then when the day came I told myself all that matters is getting married today, the rest of the stuff does not matter.
Wedding Tip 7: Printers for printing pictures or albums
Jamie May got our pictures printed for us and we love them!
Shutterfly did a great job!
I had photos printed at Meijer and Walgreens.
My biggest regret was my photographer who was awful didnt edit my pictures or offer prints or albums
Getting prints and a small book with Jamie was a great decision
I used Walgreens photo center for everything. Always comes out great!
Wedding Tip 8: Anything you would change?
No
I did 90% of our wedding DIY and it saved A LOT of money and gave us a lot of control over what everything looked like. However, this involved a lot of running around the morning of the wedding and I wish I had been able to relax more and enjoy the morning getting ready rather than fixing/completing last minute things. So if you choose to DIY I would delegate tasks and accept help from anyone who offers. Otherwise it might be worth it to spend the extra money to have a professional handle it.
Nope!
Nope! 🙂 I was very happy with our wedding.
See above
Honestly no
I wouldn't do favors – no one took them. Luckily it was just plant seeds, but unnecessary. Otherwise was the best day of my life and I wouldn't change a thing.
Wedding Tip 9: Best advice?
Have fun with the planning and don't forget to include your fiance. Don't stress out about the financial side or go above your means. Remember what is the most important part of the day- starting your life with your best friend!
-Prioritize your MARRIAGE. It is fun to get dressed up and feel glamorous and have all the pretty things, but the most important part of your wedding is that you are marrying your lifelong partner. Don't let this get overshadowed by the "show" of a wedding.
-Enjoy the day. I wish the morning of our wedding I was able to soak things up a little more and feel less rushed and frantic about every little detail.
-Your guests won't remember or care if little things are out of place, so don't sweat the small stuff.
-Plan your attire and hair/makeup accordingly if possible. I was originally supposed to get married indoors in April and due to COVID ended up getting married outdoors in July. My dress was heavy and HOT in July. I loved it but had I known it'd be 80 degrees and humid I would have chosen a lighter material.
-This day is about you and your partner. Do not let anyone try to highjack your plans or take control because they think it should be done a certain way. If they are not paying for it they do not get a say. Similarly, don't be guilted in to inviting guests you don't know. Food and drinks are not cheap and you shouldn't have to pay extra so someone's "significant other" of 3 days can attend. Draw a firm line and don't budge.
Remember; it's your wedding! Hold firm with your spouse what you both want from the day.
I said it somewhat above, but don't fixate on the small things. It's very easy to get in your head about the napkin colors, or number of candles on each table, but no one will notice that part. They will however notice if the bride (and/or groom and/or family) is visibly stressed and not enjoying their day.
Make sure whatever venue you're at has a back-up plan if the weather is poor. We were fortunate that we could be inside (as it poured on our wedding day), but not all venues have that flexibility.
Before creating a guest list, have a conversation with your parents to see how many people they each want to invite, and how much they're willing to contribute monetarily. I've heard bad stories from friends about their parents wanting to invite 100 people, but aren't willing to put any money towards the wedding. If the guest is important to the bride and groom that's great, but friends that they've never met shouldn't be on their dime. To sum it up, set boundaries with family before the planning starts.
Book things early. Even if you think you're jumping the gun, or if people are telling you you don't need to have items done yet, just book them. Vendors book up years in advance now, and you don't want to lose out on your favorite photographer or DJ because you waited too long.
Make an itinerary for your bridal party/family so you don't need to chase everyone around and they know what's expected of them. Lean on your MOH and Best Man to be in charge of the rest of the bridal party if needed. You shouldn't have to answer questions while getting your makeup done.
Don't let other people tell you what your wedding should look like. It's easy to just go with your mom thinks, or a vendor, but at the end of the day it's your wedding and you don't want to look back with regrets. Enjoy the celebration!!!
Decide what areas you want to be your focal points or that are very important to you and spend the most money and time on those and rhen delegate other areas to others to help when possible
Have fun and do what YOU want. I personally wanted to have very few interruptions after dinner so we did the first dance and the father/daughter, mother/son dance and that was it. Not bouquet or garder toss. I wanted to just dance and have fun.
Relax! Everything will happen the way it's supposed to happen. Also – always remember what the day is about, you and your partner getting married. Nothing else matters, so don't let anyone let you think otherwise (including family!) it is your day so do what you want! Lastly – don't feel like you have to plan your day to be just like everyone else's, make it feel like you!
Wedding Tip 10: Gifts for bridesmaids / Groomsman Ideas
I got fun floral robes for my bridesmaids to get ready in. We got the groomsmen hydroflasks. I also got my flower girls, ring bearer, and parents some fun small gifts. For the flower girls, we got them little makeup and hair kits along with necklaces for the wedding. We got the ring bearer ring security sunglasses. We got our moms special wine glasses, and dads large beer mugs.
I would keep these practical and useful. Don't spend a lot on "bridesmaid" robes or "groomsmen" flasks simply for aesthetics. They'll likely never wear/use those again. Dress socks, golf balls, and beer for the boys. Lipgloss, moisturizer, and drinks/breakfast the morning of for the girls.
Bridesmaids: I paid for their hair updos Groomsmen: coolers
Bridesmaids: Monogrammed travel jewelry cases, robes, earrings and bracelets for the day, candles. Groomsman: Engraved pocket knives, cigars and cigar cutters, socks and pocket squares for the day, hangover kits
Jewelry for the girls to wear on your wedding day is easy and then everyone will match.
I think personalized gifts are much more thoughtful then generic gifts for everyone that all bridal parties get. Also doesn't need to be fancy!
Wedding Tip 11: Favorite Food
All of the food at Bella Maria is to die for! We did the chicken with mango salsa and then steak bites. Everything was so good!
The cupcakes from Rykes!
Appetizers are honestly more important than dinner. If the cocktail hour is longer than an hour, people get antsy and drunk. Having enough food during this time keeps the crowd more sober and happy.
I did late night pizzas and that was amazing. Definitely would do again
We had a ramen bar and dumplings!!! Ask your caterer about what else they can do, I told ours my favorite food and they made it happen!
Wedding Tip 12: Would you use your Bakery again? What company did you use?
Bella Maria made us our own cheesecake and it was delicious! I would definitely use them again!
We used Harris Hospitality for our dinner and it was delicious, I would definitely use them again. For our cake(s) I ordered cakes from Sam's Club with plain white frosting and decorated them with flowers myself – again it saved us a lot of money and tasted just as good as a fancy, 3-tiered cake. Plus they were easier to cut and serve.
Ryke's Bakery in Muskegon: they were wonderful to work with!
My cousin made our cake, but the desserts were by our venue and they were delicious. Bella Maria does catering for off-site events as well.
2nd flood bakery, absolutely loved their cakes but they went out of business
Yes! 4th avenue Sweets in Lake Odessa
I baked my own cake.
We didn't use a bakery! Had our caterer bring in an ice cream bar. We didn't want to spend money on cake that we don't even like.
Related Articles: Wedding Tips: Salon coverage, Live Bands and Love